Fixed Prosthetics with Dental Implants
The smiles of our patients speak for themselves!
Schedule your evaluation appointment with us.
WHAT IS THE ALL-ON-4 PROCEDURE?
At Colombo & Silva Dental Clinic the all-on-4 procedure is a complete recovery of the upper and/or lower arch using dental implants and a fixed prosthesis over them. The all-on-4 treatment is a total rehabilitation of your smile, consisting of a prosthesis of twelve teeth, normally, and developed specifically for you, without using pre-existing models or molds. The permanent prosthesis is developed in several stages and can be built with different types of material, meeting your needs, such as Acrylic, High-Aesthetics or Ceramic.
Our surgeons, specialists in rehabilitation, treat and replace your teeth in just two days (surgery and installation). This procedure always requires an evaluation and preparation consultation. All-on-4 is a painless surgical procedure, thanks to the cutting-edge technology we use in our clinic and high-quality materials.
It is necessary to evaluate your case to offer you the best treatment plan. ARRANGE A FREE CONSULTATION
THE TOTAL REHABILITATION PROCEDURE IS INDICATED FOR PATIENTS WHO ...
They want to prevent further bone loss and look for a permanent solution;

They limit themselves to eating only soft foods or have problems with speech because of the use of removable dentures;

They have missing or mobile teeth and do not want to wear removable dentures;

They have a defective/problem dental bridge and do not want to wear removable dentures;

They want a fixed and comfortable solution;
They have several missing teeth in the upper and/or lower arch and want a fixed solution.
We have a team of professionals who, in addition to being experienced, are highly trained in solving the most complex cases.
WOULD YOU LIKE TO HAVE A FIXED SOLUTION IN A SHORT TIME?
The all-on-4 is a procedure known for the rapid placement of fixed (provisional) prostheses in just 1 day after surgery.
This technique consists of placing dental implants (usually 4 per arch) and a temporary fixed prosthesis* (designed in advance and tailored to each patient). This provisional prosthesis will remain during the entire healing period (4 to 6 months) and until the definitive prosthesis is placed, which, after the healing is complete, begins its manufacture. all this work will be developed and carried out together with the patient, through several tests until reaching a completely satisfactory result for the patient.
*Dental implants may or may not allow load to fix the temporary prosthesis. These cases only occur during the healing period, and do not compromise the success of the treatment in any way.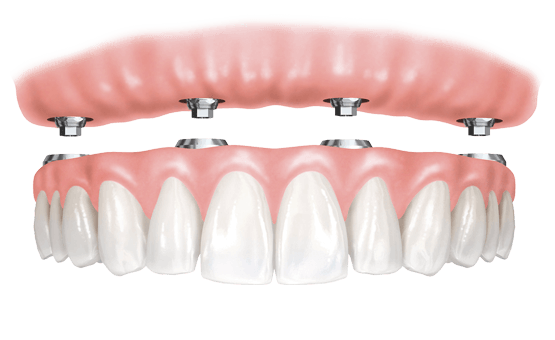 When teeth are lost, whether through illness or accident, considering a dental implant solution can be a viable alternative. Our experience in implantology and oral rehabilitation, carried out with 4 or 6 implants, allows us to place them completely in just one day and fix the prosthesis immediately (next day). This solution is the closest to the original comfort of our dentition and we managed to create a prosthesis so natural that you don't realize you're wearing it. There are different types of prostheses, developed with different materials, satisfying the needs and requirements of each patient.
The absence of teeth in our mouth affects our quality of life and health. Not only is the ability to chew, but it also affects both our speech/diction and our physiognomy, often making us look much older. Colombo e Silva, as a clinic specializing in implant placement and oral rehabilitation, will help you recover your smile and quality of life.
Patients choose All on 4 dental implants because:
They are very comfortable and natural;

They don't move or fall - being able to enjoy life to the fullest, eating, talking, singing and even kissing in confidence;

The procedure can be completed in just one day, thus minimizing the discomfort, anxiety and inconvenience in your day-to-day;

It is a simpler procedure than the placement of multiple implants, without the need for complex surgical procedures such as bone grafts;

It has the best price/quality ratio in the long run.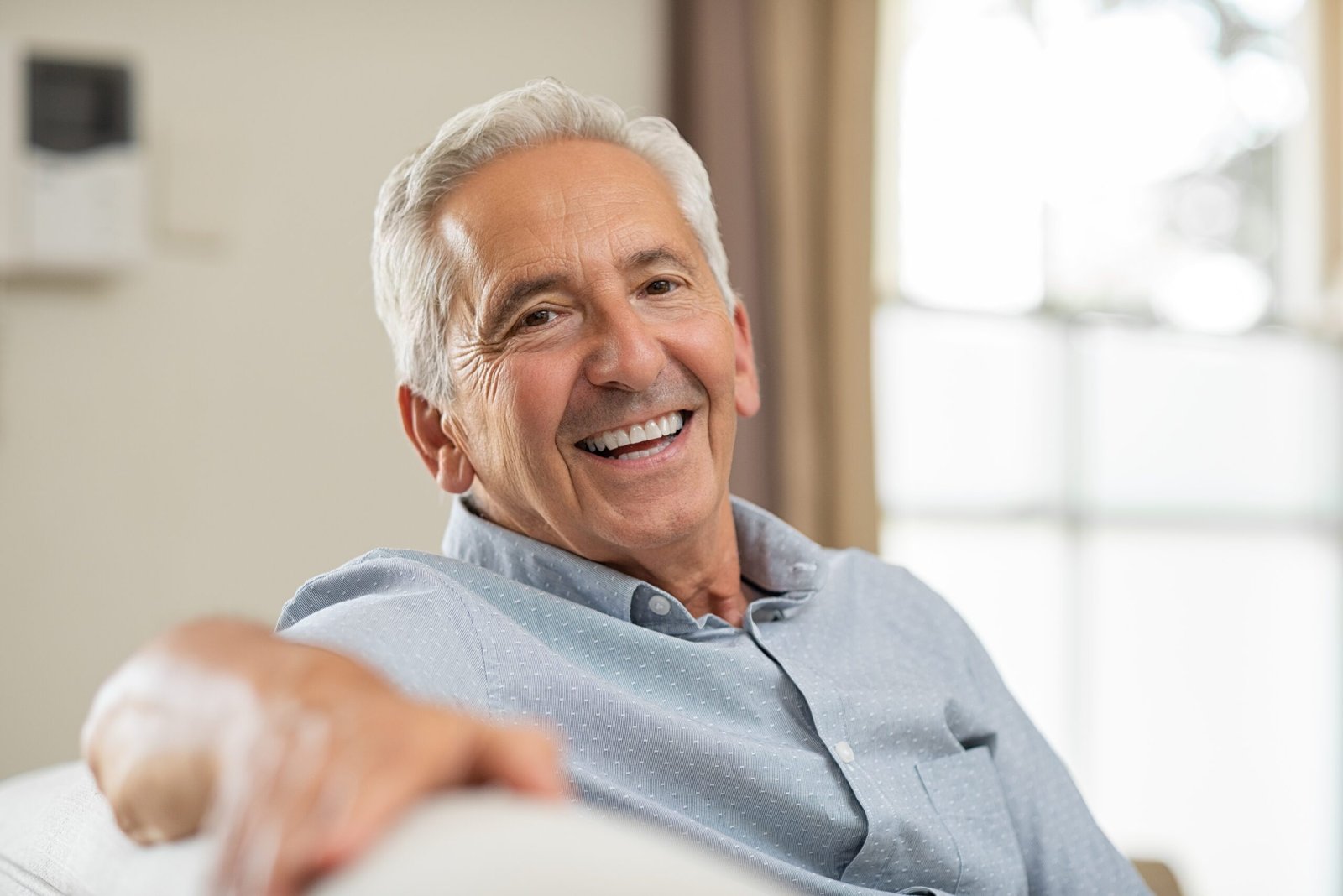 Before and After All On 4/6
IMPLANT
The alternative for the boneless
Today, alternatives already exist for those who cannot have conventional implants, either because they have no bone or because treatments have failed.
Dr. Juan Luis Eizaguirre Columbus
Do we make an appointment?
Send your contact and our team will contact you as soon as possible to arrange a visit to our clinic.
IS ALL - ON - 4/6 FOR EVERYONE?
Dental implants can improve your self-esteem, your confidence and eliminate problems with speech, chewing certain foods and much more. An adult in good oral health and generally healthy is eligible for treatment with dental implants. This does not mean that if you have oral health problems, you cannot undergo treatment with dental implants, it just means that you must be treated before undergoing any surgical procedure.
Before starting any treatment, you will have an assessment with one of our specialists to ensure that there is enough bone structure to place the implants or if you need to have a bone graft done in the first place. At this point, it may be necessary to take x-rays or CT scans to obtain the necessary information. O procedure will be successful due to the planning and in-depth work that is done before implant placement. We are proud of our high success rate with dental implant cases.
Before the surgical procedure, a temporary prosthesis will be made for placement right after the surgery, so that our patients do not have teeth during the healing period. When making the prosthesis, we can immediately make improvements at an aesthetic level, according to your needs and start your entire change process.
In the surgical procedure, the surgeon will make small cuts in the gum for the titanium implants to be placed. The temporary prosthesis will be placed on these implants.
Once the osseointegration process is completed, the treatment can proceed.
The definitive prosthesis will be placed after the healing period and its complete fabrication (period depending on the number of tests until the patient and doctor are satisfied). Dental implants are functional and aesthetically it is not clear that you are wearing a prosthesis, which is due to their naturalness.
The first step is to carefully plan your treatment with our team so that your new teeth can be placed right after surgery and your new smile is produced immediately.
The prosthesis is supported by only 4 to 6 implants with the cost savings advantage over an alternative of 8 to 10 implants.

This is the best fixed solution for those who have lost their teeth and will be the closest to our natural dentition.

Longer implants are normally used in patients with less bone and thus avoids the need for bone grafting in some cases.
Dental implants, like our teeth, require proper maintenance and care, but, unlike removable dentures, wear problems, which cause the denture to become loose, can come off and fall out or cause friction on the gums, are not problems that need to be resolved.
The treatment is very fast, providing results in just 1 day.

These solutions can be effective for more complex cases, for which previously no solution was possible.
WHY YOU SHOULD CHOOSE OUR CLINIC FOR YOUR ADVANCED TOTAL ORAL REHABILITATION TREATMENT WITH DENTAL IMPLANTS
We have an experienced and highly qualified team

We have many successful cases (one and patient base) in Portugal and Spain.

We offer a lifetime warranty on our implants.

We rehabilitate your smile without pain

We have particular experience with nervous and anxious patients.

Our state-of-the-art sedation administered throughout the treatment ensures patient comfort

We can offer 0% interest payment plans that will help spread the cost of treatment

There are absolutely no additional charges or hidden costs

We are one of the few clinics in the Algarve that can offer this treatment performed by a specialist surgeon with training and experience in maxillofacial surgery, which allows us to solve even the most complex cases.
CARE AFTER IMPLANT PLACEMENT
Caring for your newly placed implants will be an easy process. ÇYou will continue to do your hygiene with a standard standard toothbrush and floss. You will receive all instructions on how to care for your new implanted teeth. Will be done also regular check-ups so that you can check the status of the implants and carry out a deeper cleaning of your prosthesis.
DENTAL IMPLANTS ALL - ON - 4/6 VS REMOVABLE PROSTHESIS (Plates)
Removable dentures fit over the gums and remain in place only with suction or the use of a specific glue. Fixed prostheses (ALL - ON - 4/6) are fitted to the implants and fixed, which does not require any use of glue for this purpose.
One of the problems in the use of removable prostheses is related to the fact that the supporting bone is absorbed, over time, because of the absence of teeth. This will cause the dentures to fall out and not be supported to hold, which means they will have to be replaced regularly to avoid discomfort and problems when eating. Removable dentures also increase the rate of bone loss.
The upper removable denture covers the entire roof of the mouth and the lower denture is horseshoe-shaped to allow space for the tongue. Its cleaning is usually done during the night (hence the cliché of "false dentures" in a glass of water on the bedside table).
Fixed dentures are custom-made so that they fit precisely in the patient's mouth. and should act like natural teeth in terms of appearance, chewability and comfort. There is no risk of them moving around while talking or eating.
Removable prostheses offer a clear cost advantage over any type of implant, however they need to be replaced, on average, once every five years.
We answer all your oral health needs
schedule your appointment